TOURISM INFORMATION
We are just 7 blocks
(5 minutes walk) from
Trujillo's Plaza de Armas,
in a much quieter park,
with extensive information.
Please visit us.
Larger map with photos of our tours.
Cahuide 495,Santa María Trujillo has photos of our guest house. Google Earth map/photo hybrid
Do not miss North Peru :: Forum Pérou :: Ne perdez pas du nord Perou
Moche route promoted by World Tourism Organisation and National Geographic,
Chan Chan & north Peru on Russian TV
10 minute video on colonial & modern Trujillo, Huanchaco & Huamachuco
Ruta Moche del Peru vista en Colombia, video 2012
Video Norte pone Dedicarán especial sobre el Perú en Televisión Pública de Cataluña (TVC- TV33) 1/12/2011
Lima, April 13 2010 (ANDINA).- A team of SBT TV Brazil
(Brazilian Television System) has just arrived in the city of Trujillo, in La Libertad to broadcast a documentary on Peru's northern tourist attractions.
Jorge Said, host of the TV show Boa Noite, said that the almost two-hour documentary will be broadcasted in early May, showing the main attractions of the coastal towns of Tumbes, Piura, Chiclayo (Lambayeque), Trujillo (La Libertad) & Huaraz (Ancash).

The SBT TV documentary will be watched by some five million Brazilians in the states of Acre, Amazonas, Pará, Tocantins, Roraima, Ampá and Rondônia.
Details on the walls of Huaca de la Luna in Trujillo. Photo: ANDINA/Oscar Paz.
Trujillo, 07/04/2010 The first two levels
of the main facade of the Huaca de la Luna, located in
La Libertad, will be unveiled by the specialists who work
in this sacred temple of the Moche culture, with a one-
million-dollar donation of the World Monuments Fund (WMF).
The WMF announced 5/4/2010 the award to Huaca de
la Luna to help develop an integrated management plan to
support its inscription as a Unesco World Heritage Site
Chan Chan archaeological complex.
Lima, 07/4/2010. Peru's Export and Tourism Promotion Board
(Promperu) will promote several Peruvian archaeological sites
during its participation in the Archaeological Institute of
America Gala, to be held in late April in the United States.
Organized by the Archaeological Institute of America, the
world's largest and most important archaeological organization, will take place from April 26 to 30 in New York City.

Peru will present its different archaeological attractions, such as the Lady of Cao exhibition, and will offer live music and dance performances as well as traditional dishes.

Peruvian history, culture, cuisine and entertainment take center stage at this black tie affair. Tickets can be purchased at

www.archaeological.org/gala

(END) DCT/CSO/PSY/EEP
Please see Transport for an increasing number of airlines, Cruises, &
more comfortable, modern & economic buses arriving in Trujillo & north Peru.
Top 10 Discoveries of 2009 include Lord of Ucupe and Anglo Saxon Staffordshire Gold Hoard
National Geographic ran articles on the Incas & a map of pre Colombian cultures since 19th May 2002,
& other programmes on the Moche Murder Mysteries.
Discovery Channel features various articles too. Le Figaro produced an article on the Moche in August
2001, & an article on Peru was in the Italian Dove Magazine in April 2002.
BBC1 has shown documentaries on the Moche.
There is much to see between the frontier with Ecuador, & Lima.
Many sites are very close to major cities on the Panamerican Highway.
Make sure your itinerary allows sufficient time at each site,
instead of rushing through half of Peru.

Colonial Trujillo is a potential World Heritage site.
Map & photos:. Plano de la ciudad de Truxillo... www.pilsentrujillo.com.pe/tutierra/ind_historia.html
Situated 6km south east of Trujillo, the Pyramid of the Sun
was the largest construction in the Americas, & yielded
nearly 10 tonnes of gold & silver in colonial days.
The Pyramid of the Moon has over 8,000m2 of polychrome reliefs,
extensive panoramas over the countryside, excavations in progress & soon a site museum.
The project won first prize for good government practice in 2007.
Huaca de La Luna to receive 110,000 visitors in 2008
Andina 5/11/2008 More on future World Heritage status Espanol
Like The Learning Channel, National Geographic has been visiting,
filming & writing for the 2008 magazine & 2009 guide.
Make sure you see all areas opened recently & included in the entry ticket
(11 nuevos soles general entrance, 6.00 students, 1.00 children).
The complex & extensive murals on the north facade of the Huaca de la Luna were inaugurated
on 21st October 2004 & a US1.25M site museum & US$0.25m roof are in progress.
Visit Moche Zoológico animal refuge. See the hairless dogs too.
Excavations are also in progress 12km inland at the Cupisnique culture site of Caballo Muerto.
60km north west of Trujillo, El Brujo Archaeological Complex' 3 temples holds
5,000 years of numerous cultures, history, extensive polychrome reliefs & murals,
overlooking a splendid beach (Entrance 11 nuevos soles general entrance,
PE S/.6 for students, PE S/.1 for children) & including the new site museum.
See ElBrujoPeru for National Geographic TV 26/8/2012, magazines in July 2004 & June 2006 in 5 languages &
other articles on Huaca Prieta, Brujo (Cortada/Partida), Señora de Cao & her mausoleum opened on 27th July 2007.
El Brujo's site museum opened in April 2009.
Caral, declared a World Heritage in July 2009, is among the oldest city states in America.
Near Casma are sites like Sechín from 1,700BC, & the delightful beach of Las Tortugas.
Archaeologists are working in the same valley at Chanquillo, in the Chao & Viru valleys between
there & Trujillo, in Mocollope (Chicama) & Farfan (Jequetepeque).

Festivals include the Marinera(January), Carnival(February), Spring(September/October) & Ocean Festival(May).

Huanchaco has the reedboats & is near to Puerto Malabrigo-Chicama & the world's longest left hand wave.
The 7 Wonders of Peru Winners include
Chan Chan, the largest city in the Americas
when the Incas arrived in 1460.
The government approved a 10 million nuevos soles
budget for ongoing conservation work.
An Italian mission will participate in Chan Chan & Sipán excavations.
You can take a 6 hour daytime bus up the Cañon del Pato to Caraz to trek the Santa Cruz loop,
or take daytrips to Chavin de Huantar & site museum, Llanganuco lakes or Pastoruri Glacier.
'The Marcahuamachuco ruins surely rank in the top 10 archaeological sites in Peru' (Footprint Peru 2007 p.441) as well as its 7 Wonders.
Nearby Huamachuco is just 6 hours inland from Trujillo, giving access also via Cajabamba to Cajamarca.
The Chotuna - Chornancap site museum, near Lambayeque, officially opened in August 2009.

The Royal Tombs of Sipan National Museum in Lambayeque opened on 11/11/2002.
The purpose-built 3 storey pyramid-like Museum is an attraction in its own right.
It is 3 blocks from the Bruning Regional Museum of Lambayeque.
The tomb found in 1987 (National Geographic October 1988) was the richest
ever found in the western hemisphere, & by June 1990 (National Geographic)
was the richest series of tombs found anywhere in the world for a century.
The Sipan site is smaller than the Huacas del Sol y la Luna de Moche,
has a nice feel, excavations renewed in 2007, & excellent replicas in most of the tombs & site museum.
17 km north east of Chiclayo,
Ferreñafe has another purpose-built museum
opened in November 2001,
the National Museum of Sican
(More below on this Lambayeque culture).
All 3 museums have gold collections which outclass those in Lima & Bogota.
There were exhibits in France (September 19-29 2008) ,
& La Pinacotheque in 2010, & Germany too (Hamburg) "1/1/07-24/6/2007.
Tucume, 35km from Chiclayo has 26 temples viewed from a hilltop, & 3 excellent museum halls.
Its gold has yet to be discovered. Gold found recently at Moche has yet to be displayed.
There are new discoveries at Huaca Quiñones, Sipán (14th tomb), nearby Huaca Ventarrón, Collud-Zarpán & Chotuna with site Museums in progress. A curandero or traditional healer was discovered in 2010 at Mochumi.
10 hours inland is Chachapoyas which has sites to rival Machu Picchu.
All much cheaper than Cusco. Programa de XII Semana Turística de Chachapoyas 1-7/6/2008.
Return via Leimebamba (new museum opened in 2001), Celendín, Cajamarca &
Kuntur Wasi (good road, gold etc Museum & newly cleared ruins giving extensive panorama).
There is more information on all these in Ecuador Peru route information & Tours in 5 languages.
We will be happy to help with accommodation in Trujillo, at www.xanga.com/CasadeClara
join you up with other travellers, guide you around the sites,
or just provide up-to-date information in 5 languages. See Peru, World's catalogue on You Tube.
Michael White & Clara Bravo
Press coverage at Huaca de la Luna:
PROYECTO CENTRO CULTURAL MOCHE VIEJO PROPONEN EN HUACA DE LA LUNA
Se ubicará en la zona que se encuentra en el lí­mite sur del área del sitio
arqueológico y que colinda al oeste con la Campiña de Moche.
www.peruprensa.org/Ta241205.htm
Diario La República - La reina premia a los Moches
www.larepublica.com.pe/index.php?option=com_content&task=view&id=105824&Itemid=28&fecha_e...
- 33k - 23 Mar 2006 -En cachét - Páginas similares
Diario La República - Maravillas bajo tierra
www.larepublica.com.pe/index.php?option=com_content&task=view&id=100077&Itemid=487&fecha_...
- 41k -En cachét - Páginas similares
www.huacadelaluna.org.pe Webpage new in 2004. English/Español
Frommers.com : Central & South America : Peru : Northern Peru ... - [ Traduzca esta página ]
Excursions to El Brujo
Moche Death Rituals in New Zealand www.otagomuseum.govt.nz/WhatsOn/WhatsOn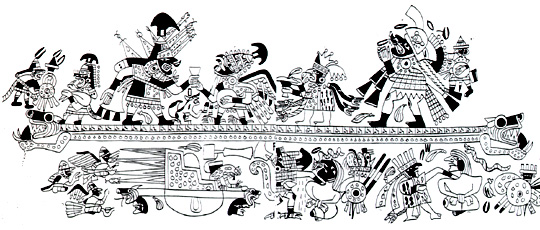 Owl frequently seen at Huacas
www.wellcome.ac.uk/doc_WTX041314.html
Grim Rites of the Moche - [ Traduzca esta página ] Huaca de la Luna
Temple of Doom El Brujo Archaeological site in National Geographic Magazine of July 2004 in many languages.